History
Early Years
Actually CDT started at a tennis lesson in 2005. At that tennis lesson, two little boys called Simon and Niclas met for the first time.
After they had become friends and had met some times Niclas told Simon that "Domino Day" would be on TV soon and that they should watch it together.
Simon also knew Domino Day and so they arranged to meet on that day.
After the last domino had toppled and it was sure that there was a new world record of toppled dominoes Simon and Niclas got the idea to try this whole domino-thing themselves. They found a few old dominoes and their domino-fever was awoken – the domino-fever that hasn't left them until now.
In the next years they met very often in order to build some domino courses with their own 300 dominoes. Often they invented funny new domino tricks and of course they always tried to build more complicated and more beautiful domino parcours.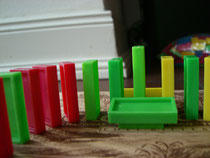 A great breakthrough happened in the year 2007 when Niclas discovered a seller on eBay called Christian Lamping. This guy was selling 'original' Domino-Day-Dominoes. Because he never really liked the "Domino Rallye"-dominoes Niclas decided to buy 500 of the original dominoes he had just discovered. Not much later Simon and Niclas discovered the value of this new dominoes - they were heavier, bigger and all in all much better than the dominoes they had used before.
With these new domineos there own little domino parcours became much better. For the first time they tried to build domino fields that showed pictures or even tried to built a domino course showing motifs about a special theme they had picked before. Unfortunately they never filmed their courses and so there are nearly no documents of the very first 'events' made by the organizers of CDT.
But this changed in the summer of 2007 - Simon and Niclas finally started taking photos and videos of their domino courses. Their first filmed domino 'event' can be found here. If you compare this video to the events CDT does today, you will see that there was still a very long way that the two of them had to go before they would be able to organize events like CDT.
The first step (and of the most important steps as well) on this long way was to register on the internet video platform "YouTube".
The Team Grows and Joins YouTube
Shortly after their first filmed 'Domino Day', the team was expanded for the first time. In order to break their own record of 2000 toppled dominoes, Simon and Niclas needed more dominoes. But that also meant that they would need more money to spend on buying the domineos. So they decided to show their hobby to one of their friends and hope that he would be interested in buying some dominoes and working together with them. And after building domino with their friend Alex for a few times he actually bought 500 dominoes himself.
And so the three of them could lift the former record of 2000 toppled dominoes up to 2500. The falldown video was the first clip the small team uploaded to YouTube (Link).
They had registered a YouTube channel with the name "IIIIIDominoIIIII" (the I's were meant to represent dominoes) before, and now they had decided to upload their first video.
Soon after the video received a lot of positive comments that encouraged Simon, Niclas, and Alex to keep uploading videos.
Shortly afterwards, another YouTuber took notice of them. It was the guy who had been the first person on Youtube to upload domino videos: FlippyCat!
After becoming one of the first subscribers of the new channel, he wrote his first comment under a video of the young domino builders: "Nice to see a new domino-builder on youTube."
Although this comment wasn't that enthusiastic, it was a big motivation for the small team that such a prominent domino-builder paid attention to them.
A lot of record attempts in a row followed. At first, the records were broken only by 500 to 1000 dominoes each time, but when the new year - 2008 - started, the team decided to build their first really big domino course and upload it to YouTube. In the meantime they had convinced a lot of their friends to buy domioes as well and join their team so that they could manage to set up 11,000 dominoes in order to break their old records of 6500 dominoes by far. In the end, 10,000 out of 11,000 dominoes toppled. Unfortunatly the 'Challenge' failed but nevertheless the team was very happy and proud to upload their first big domino-'event' to Youtube.
More about the CDT History will follow soon but as you might know translating a long text into a foreign language can take a very long time.
Nevertheless you can be sure that we are working on translating this website as often as we can.