CDT 2011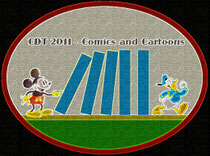 Theme: Comics and Cartoons
Set Up: 155,555 Dominoes
Toppled: 125,104 Dominoes
Number of Team Members: 21
Building Time: 10 Days
Falldown Time: 6:54 min
Date: 5th August, 2011

This year many things at CDT changed. Because of the larger amount of dominoes set up we had to consider and solve a lot more organizational and logistic problems than last year. Moreover the falldown included a lot more effects which had to be tested.
But even if we did our best with the planning not everything worked as it should have done. So 20% of the dominoes set up did not fall and for the first time ever the challenge did not work what meant that the final field with 15,000 dominoes did not topple.
But even if a lot of things did not work we still broke last year's record and set our new record at 125,104 toppled dominoes.