CDT 2012 - "The Circus"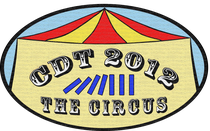 Theme: The Circus
Set Up: 200,000
Toppled: 177,414
Number of Team Members: 22
Building Time: 2 Weeks
Falldown Time: 7:27 min
Date: 17th August, 2012
CDT 2012 was our biggest and surely also best event so far. After one year of planning the whole event, structuring everything, organising the logistics and designing the fields it took us about 2 weeks to set up 200,000 dominoes!
Quite a few projects happened to be more difficult to set up than we thought. The world-record Ghetto-Wall which included over 8000 dominoes for example crashed twice before we managed to set it up. But although we had less time than in the last years we finally managed to set all 200,000 dominoes up.
On the 17th of August we then performed the by far best and most entertaining CDT Pre-Show ever and shortly after toppled the first domino. This year again, the chain reaction was started by our headteacher Ingrid Schulten-Willius who also started CDT '08 and CDT '09.
The following chain reaction took about 7 and a half minutes and included way more special effects and new techniques than any other CDT falldown before.
Although the challenge unfortunately failed again this year we had still set a new personal record:
177,414 toppled domineos!
In the rubric "Gallery" above you can find some of the best photos our photographer Timo Schäfers made of CDT 2012!