CDT '13 - "The Wild West"

Theme: The Wild West
Set Up: 285,000 Dominoes
Toppled: 281,257 Dominoes

Number of Team Members: 25

Building Time: 2 Weeks
Falldown Time: 9:30

Date: 30th August 2013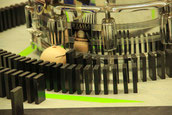 After the great success of CDT 2012 we are now confronted with a great challenge since we of course want CDT '13 to be an even greater event than 2012.
After many brainstorming sessions and disccussions the planning team finally decided what this years theme will be: The Wild West. The very special campfire romanticism that is radiated when thinking about the "Old West" is a perfect foundation to build an amazing domino event upon.
This years theme combines great effects, fun and tension with American history and makes the viewers dream about the vast prairie and classic western movies.
For this years event the western atmosphere will be picked up to create an amazing domino parcours including more than 250,000 dominoes. In three main projects you will be guided through the world of Cowboys and Indians. You'll be able to witness exciting duels and ancient indian rituals. The dominoes will perform more special, intriguing tricks than ever and then finally lead the viewers to the new, originally designed Builders Challenge that will decide about the main question - will the Cologne Domino Team breaks its own record once again?
Although this year we have been faced with many time problems since lot's of team members are writing their finals this year we can promise you that CDT '13 will be an outstanding event that will redefine word Domino.
Also check out the CDT 2013 News Stream and the CDT '13 Preparation Day videos below if you always want to be up to date about how far we are with the planning!